Fruit & Vegetable Carving Services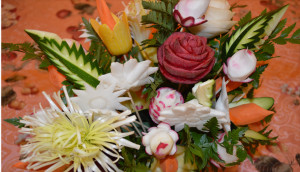 We specialize in creating fruit and vegetable carving centerpieces for all occasions. Lena is the founder and art chef with a talent to customize any vision you have. Fruit and vegetable carving arrangements add a spark of elegance and creativity to all catering events, weddings, bar/bat-Mitzvahs, baby showers, and corporate occasions.
Personalized Planning and Catering
Lena works closely with her clients to personalize the arrangements to ensure a memorable event. When it comes to event planning you deserve to work with professionals who deliver exceptional products and this is our mission.
Call us today at 973-393-8429.  We look forward to serving you.