Introducing Lena's Fruit & Vegetable Carving: Exquisite Centerpieces that Wow
At Lena's Fruit & Vegetable Carving, we are dedicated to transforming ordinary fruits and vegetables into extraordinary centerpieces that become the highlight of any event. Our passion for the art of carving, coupled with our keen eye for design, results in breathtaking creations that leave a lasting impression on your guests. Whether you're planning a wedding, a corporate event, or any special occasion, our fruit and vegetable carving centerpieces are sure to captivate and delight.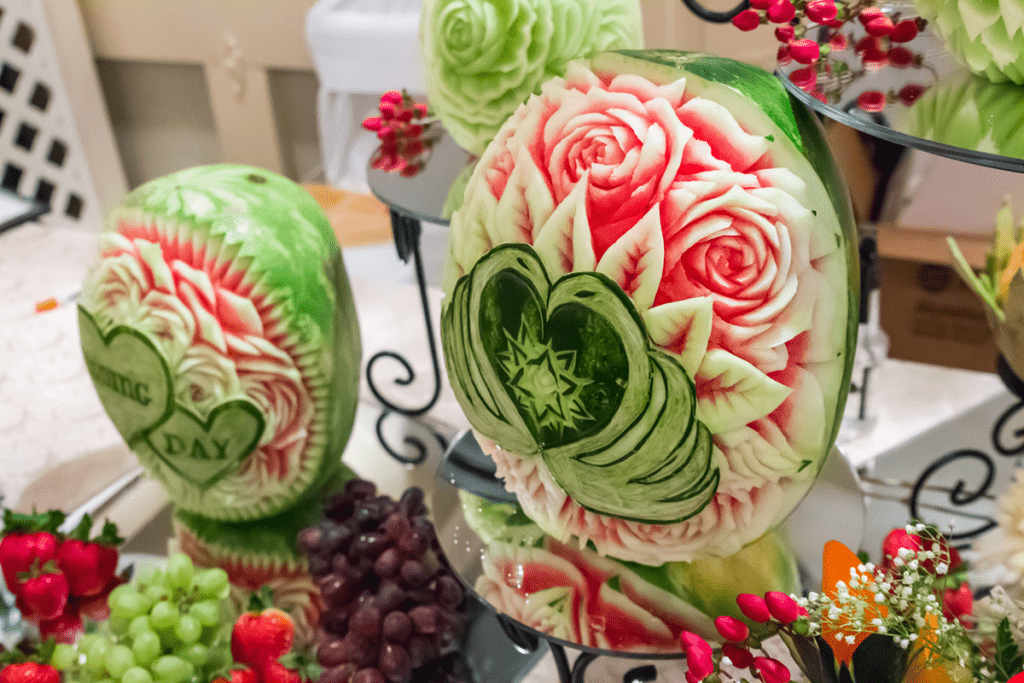 Unleash Your Imagination, Elevate Your Event
Our founder and art chef, Lena, is a master in the craft of fruit and vegetable carving. With her meticulous attention to detail and artistic flair, she can turn a simple watermelon, pineapple, or cucumber into a stunning work of art. From intricate floral arrangements to elegant sculptures, Lena's expertise knows no bounds. Collaborate with us to bring your vision to life and elevate your event to new heights.
Customized Centerpieces for Every Occasion
We understand that each event is unique, and that's why we offer personalized carving centerpieces tailored to your specific theme and preferences. Whether you're hosting a tropical luau, a whimsical garden party, or an elegant black-tie affair, we can create centerpieces that perfectly complement the ambiance and style of your event. Our team works closely with you to ensure every detail aligns with your vision, resulting in a truly one-of-a-kind masterpiece.
The Artistry of Freshness
At Lena's, we believe that the quality of ingredients is as important as the artistic presentation. That's why we source the freshest, highest-quality fruits and vegetables for our carvings. We prioritize locally grown and organic produce whenever possible, ensuring not only stunning visuals but also a burst of flavors that will delight your taste buds. Our commitment to excellence extends to every aspect of our creations, from selecting the produce to the final presentation.
Unforgettable Impressions, Lasting Memories
When you choose Lena's Fruit & Vegetable Carving for your centerpieces, you're not just getting an exquisite piece of art. You're getting an experience that will leave a lasting impression on your guests. The awe-inspiring presence of our centerpieces serves as a conversation starter, creating an atmosphere of wonder and delight. Your event will be elevated to a new level, making it an unforgettable occasion that guests will fondly remember.
Browse through our gallery to witness the sheer artistry and craftsmanship that defines Lena's Fruit & Vegetable Carving. Read testimonials from our satisfied clients who have experienced the magic of our centerpieces. When you choose us, you're choosing unparalleled creativity, attention to detail, and exceptional service.
Contact us today to discuss your carving centerpiece needs. Let Lena's Fruit & Vegetable Carving be a part of your special event, bringing elegance, artistry, and culinary excellence to the table. Together, we'll create centerpieces that will leave your guests in awe and make your event truly extraordinary.