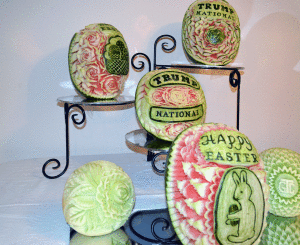 Thank you so much for the wonderful and amazing job you did on the watermelon carriage. You are so talented and gifted. My daughter and I appreciate all your love and pride you put into your hard work.
Liz and Sonja
I met Yelena at the Bridal Show in New Jersey she was a vendor representing her work. Her fruit arrangements immediately grabbed my attention. I was there with my daughter for her upcoming wedding that we were planning. When I spoke to Yelena she was very kind and willing to help. We decided to utilize Yelena's expertise and she created a beautiful wedding arrangement that will always be memorable to us.
Marie
Yelena your work is always beautiful and captivates the attention of our dear patrons. We here at the Trump Country Club appreciate working with you for these past several years. Looking forward to watching your work and talent grow. Thank you for everything.
Trump Team
I found Yelena through my friend and she made a beautiful arrangement for our holiday party. I was mesmerized by her creation. Her work is authentic and she listened to my every word. I was blown away and so were all my guests.
Susan